Growing population, economic development in Asia, Africa and South/Central America and shrinking natural resources continue to strain the global energy sector. With the global energy consumption expected to grow by 50% over the next 30 years, efficient utilization and conservation of this depleting natural resource is even more critical.
With the goal to achieve Net Zero in the not-so-distant future, there is also the pressure to wean ourselves off fossil fuels and rely more on alternate sources of energy. This has created a different kind of a Supply and Demand Management opportunity in the energy sector, one that is focused on managing various alternate energy sources available in our ecosystem, ranging from solar farms to windmills to fuel cells to electric vehicles and having them "join the grid" as providers and consumers of energy in a timely manner.
Broadly speaking, one could break down energy management into three areas of focus:
Grid availability – A healthy power distribution grid is imperative for civic, economic and national security reasons. Research has shown the economic impact of power outages. Without a stable, reliable and scalable power grid, localized outages will become regional disasters.
Demand management – Demand for energy constantly fluctuates within a day or between days for several different reasons. An unexpected hot day can lead to a surge in power needs tied to the overworked air conditioners. There are two basic ways to manage demand – by rerouting power to the peak load areas of the grid and by adding power sources (distributed energy resources or DERs, microgrids, electric vehicles, etc.) to the grid.
Consumption management – This is all about efficiency on the other side of the meter, in the management of the commercial and personal consumption of energy. We have all experienced things like motion-based lighting systems, but imagine pushing an action to your home to switch off the hot water system at night based on intelligence derived from your usage patterns.
There has been a significant investment in the creation of modular, componentized micro-grids (e.g. Rooftop solar photovoltaic panels, fuel-based generators, battery packs, windmill farms etc.). Research effort put into harnessing and storing energy from non-fossilized natural resources has also seen a tremendous improvement in the capacity of storage cells. Smart meters have given us that last-mile visibility into power consumption. Finally, the most recent developments in electric vehicles has made another energy reservoir available to us. The next logical step is to combine all these advancements in the energy sector to create the path to Net Zero. The use of smart technology across the energy value chain is probably our best bet in balancing the limited supply of and the ever-growing demand for energy.
IoT for Energy Management
IoT can play a big role in helping to realize this vision of Net Zero by enabling remote connectivity with the different types of DERs or grid assets across the energy ecosystem, extracting meaningful information and applying intelligent decisioning capabilities to initiate smart, proactive, real-time actions directed towards efficient ways of managing the ever growing demand at lower cost of operation. However, the following challenges are proving as big hurdles in providing scalable solutions to tap into the potential of these advancements in the energy sector:
Lack of standards across diverse spread of asset types, make and models.
Ability to scale across the large number of installed assets
Need for high response time for effective forecast of demand shortfall
Ability to control the assets remotely based on changing conditions of the factors like weather or demand surge etc.
All the above challenges can be overcome using an enterprise grade platform having following features: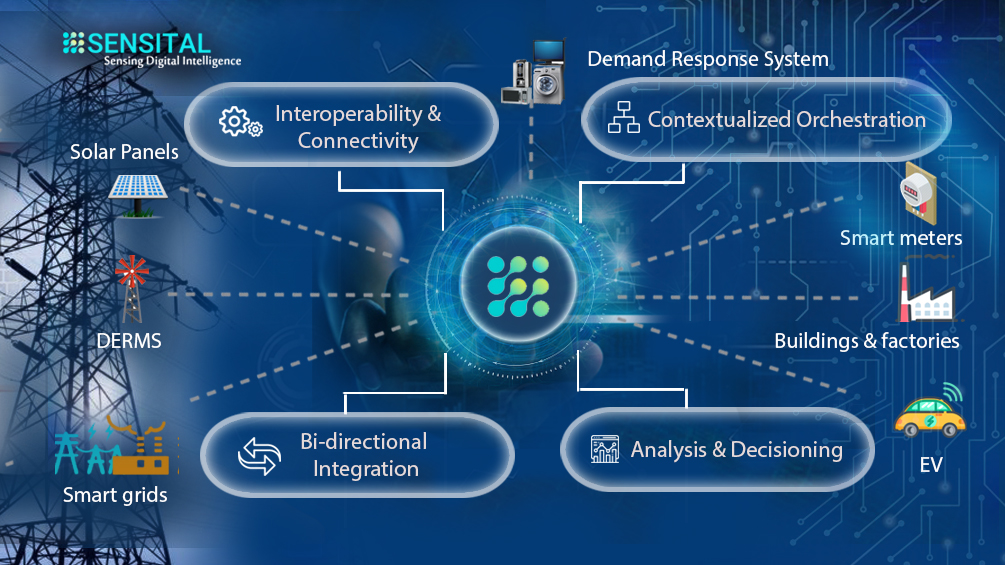 Interoperability

Connect to different kinds of sensors communicating on different protocols.
Onboard and manage a variety of distributed energy resources (DERs) or grid assets.
OOTB compliance with data standards like openADR, IEC, IEEE etc.
Enrich raw data with many operational parameters for intelligent forecast of spare energy across different DER assets, as an example.

Contextualized orchestration

Collect data from various sensors, model information flow with decision points based on triangulated information from different sensors.
Identify demand shortfall through communication with several different sensors, systems and devices simultaneously.
Know the real-time status of specific DER or grid assets for different operational situations

Bi-directional integration

Easily communicate with a variety of SCADA systems, controllers and back-office Enterprise applications.
Initiate control actions on a variety of operational and informational technology assets.
Add additional intelligence by integrating with external systems like weather forecast

Analysis and decisioning

Collect real-time streaming data from various sensors, feed to big data analytics platforms, or run through your AI models.
Apply intelligent orchestration rules to make decisions and initiate actions.
Sensital's iBOTics Platform for Energy Management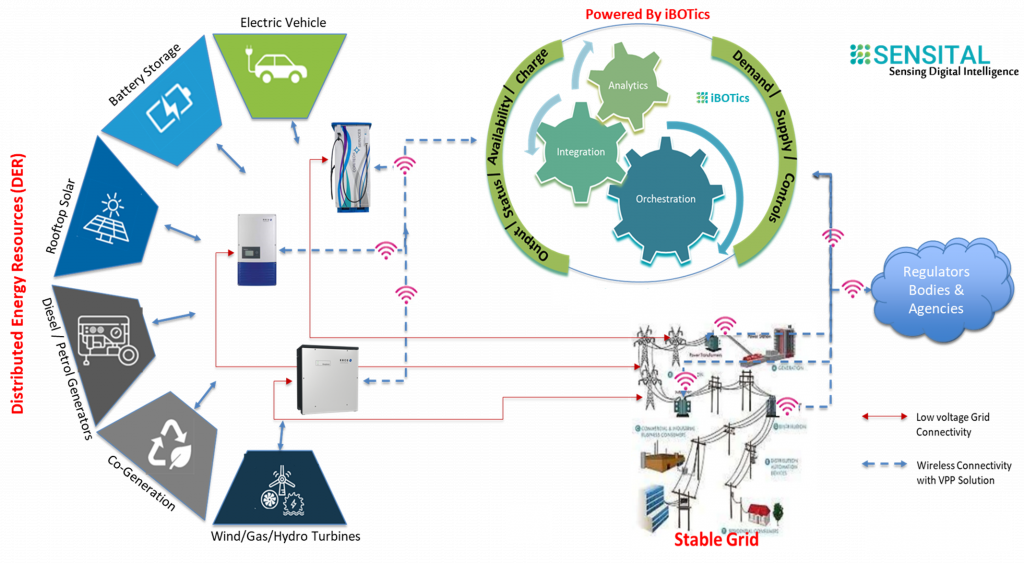 Sensital's iBOTics platform not only supports the above capabilities, it does so in a way that makes it easier for the user to take the real-world operational information flow and inject it into IT. With it's no-code paradigm, connecting to and configuring sensors, modeling information flow and initiating actions, iBOTics can help smartly manage the entire energy grid. Add to this, security, scalability and flexible deployment models (on premise, private or public cloud environments) make iBOTics an ideal option to build a smart energy management solution.