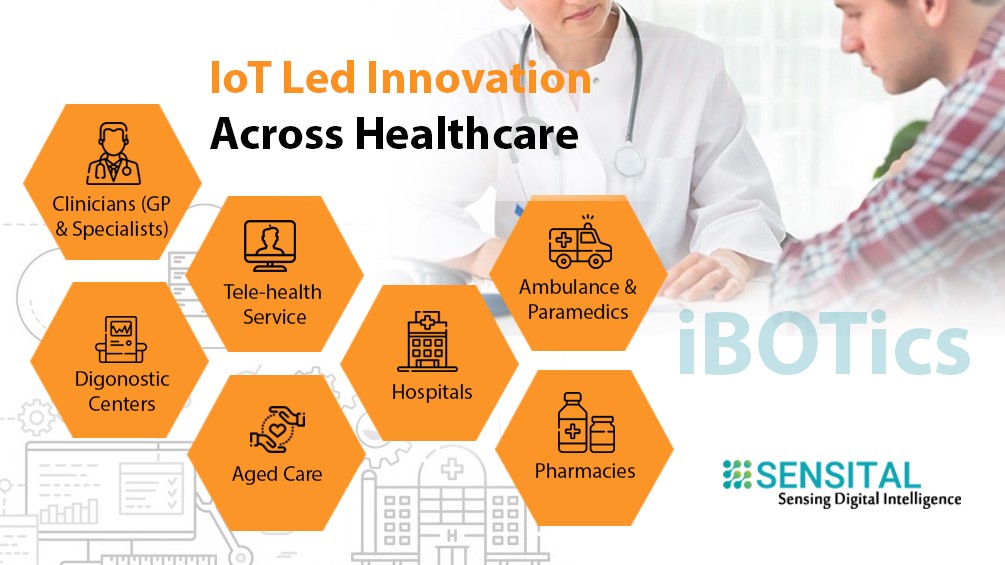 Digitally Connected Healthcare Ecosystem
Healthcare Services sector worldwide focuses on enhanced patient care with high standards of primary healthcare services to complement acute care and in reducing the cost burden on Hospitals infrastructure and Public Health regime.
Healthcare sector is getting ready to be disrupted from the traditional reactive health care to the methods of a patient-centric and proactive health care and attaining optimal balance between primary healthcare and the dependence upon tertiary care infrastructure. For this to be a reality, health care providers may want to proactively reach out to patients based on continuous monitoring of patient's medical condition. Even the traditional healthcare methods are being disrupted as can be seen how tele-health consultations and remote patient monitoring concepts are being applied in different areas of Chronic Disease Management & patient-centric Integrated Care Services, Aged Care Services, ambulance services and emergency care. "Digitally connected Healthcare Ecosystem" is an essential pre-requisite in realising value from evolving healthcare initiatives.
Healthcare sector infrastructure's readiness for adoption emerging technologies led solutions is a critical success factor in rolling out evolving initiatives for enhanced patient care. This is also complemented by growing interest of niche medical devices vendors in healthcare sector who are now building products that are ready to work with the digital systems using any IoT based technology.
The need to adopt leading-edge technologies is further intensified with the Coronavirus Pandemic the world is experiencing. Concerns around public safety, compliance with hygiene, procedures for controlling the spread of infection, tracing and tracking the exposure risks, effective tele-consultation etc can all be addressed using IoT specific technology.
Technology as An Enabler
Leveraging leading-edge IoT technology has a vital role to play in enablement of new, value-adding eHealth initiatives in strengthening traditional health care services and also introduce new means of providing health services. Such technologies can be leveraged to help the patients, caregivers & society as a whole, ranging in solutions from simple remote patient monitoring to complex decision support for healthcare providers using different clinical pathways configured for specific health needs eg monitoring many patients for chronic heart failure
However, there are many technological challenges required to be overcome in order to fully leverage the potential power of this emerging technology. According to me the challenges are mainly in the following 3 areas:
Interoperability – between different medical devices from different manufacturers each support different industrial standards/protocols.
Data Contextualization – Ability to accurately contextualize the raw data in accordance to the patient's profile for more accurate decisions
Automated Actions – Multi-lateral sharing of data, enabling rapid actions and process automation as feasible
A well designed IoT platform that enables highly configurable integration of devices & systems and easily customisable implementation is vital to make the adoption of IoT in healthcare rapid & effective, and enable a vision of truly connected digital healthcare systems environment across primary, secondary and tertiary health care providers.
Sensital's iBOTics – The unified platform across healthcare ecosystem
As a niche technology provider in IoT domain, at Sensital we have pondered over how our IoT Platform can play a value-adding role towards this vision by enabling enhanced healthcare ecosystem with ease and expediency with the help of following areas:
Ability to connect with range of medical devices, assets or equipment to enable multiple use-cases on a single unified platform to help get closer to a digitally connected healthcare vision
Enable tracking & monitoring health parameters of multiple patients across different locations simultaneously in support of management of each patient's specific healthcare needs.
Support bi-directional communication between devices in support of process automation across the ecosystem.
Technology support for healthcare facilities including security, monitoring medical equipment & preventive maintenance to ensure uptime & efficiency of equipment & resource utilisation.
Sensital's iBOTics platform not only supports the above capabilities, it does so in a way that makes it easier for the user to take the real-world operational information flow and inject it into IT. With it's no-code paradigm, connecting to and configuring sensors, modeling information flow and initiating actions, iBOTics can help smartly manage the interactions between assets, people and processes in every stage of the healthcare ecosystem. Add to this, security and scalability makes iBOTics an ideal option to build a digitally connected healthcare solution across the ecosystem